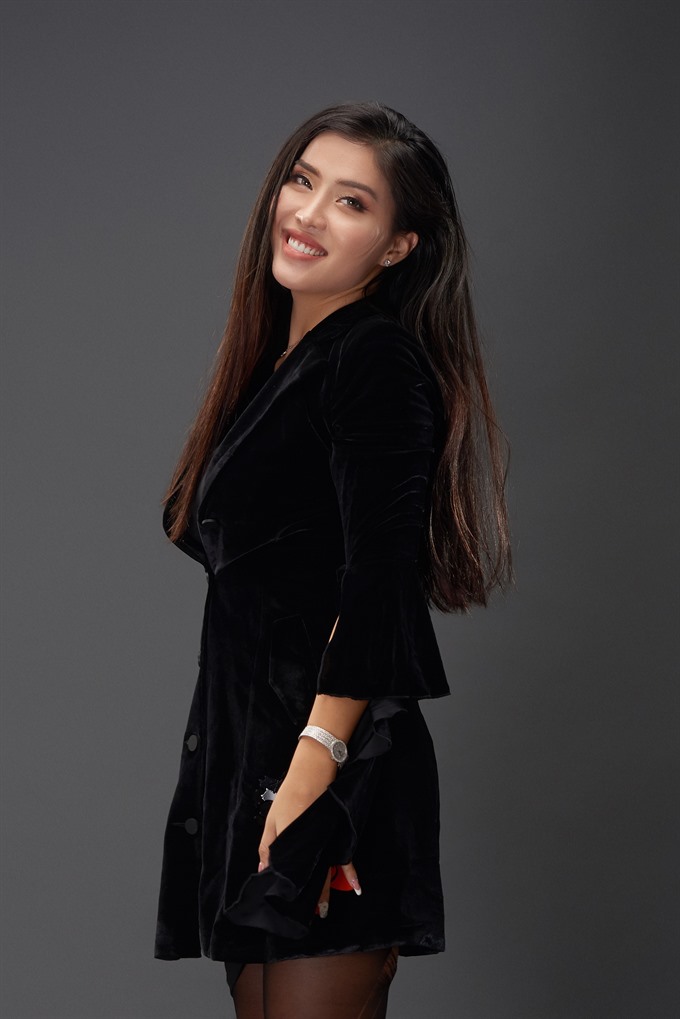 Đặng Kim Phượng is an inspiring speaker worldwide.
Đặng Kim Phượng has accumulated a wealth of knowledge and experience in training and coaching teams, helping employees to improve their learning, working and soft skills. She is also a popular guest speaker and trainer at career orientation workshops, love-relationship counselling seminars and law-of-attraction trainings. Currently, she focuses on her work as the founder and director of Master Phuong Company, which trades fengshui stones and healing crystals. Phượng is a well-known public speaker, trainer and life coach who inspires and motivates Vietnamese women worldwide.
Inner Sanctum: How did you become an inspirational speaker worldwide?
I think it is destiny. Everything happens in life because of predestined affinity.
I graduated from York St John University (the UK) and the Glion Institute of Higher Education (Switzerland). I have 10 years' experience working in the field of hospitality at companies at home and abroad. With my experience at famous hotels in Dubai, Italy, Russia, France and the US, I was offered to work as Marketing Manager at a big corporation in Việt Nam.
Once I argued strongly with my boss and was fired. It came as a shock for me because I was self-confident, I believed in my talent.
I spent one year travelling around Asia to find balance and calm.
I studied jewelry design and learnt about gems, which has been my favourite field since I was a high school student.
I started everything again. I pursue the field of designing jewelry made from gems and exploring the function of gems in treating people's minds and bodies.
Before becoming a speaker worldwide, I have been a trainer and a life coach. My passion for discovering and developing human potential eventually led me to the public speaker path.
Inner Sanctum: Would you explain your work in the field of psychology?
My company provides the following services: psychology counselling, coaching, training, astropsychology counselling and meditation.
Each service seems different and separate from one another, but they all serve the same purpose: helping people to become the best version of themselves.
Firstly, when someone feels depressed, heart-broken or so desperate that they want to commit suicide, we offer them the psychology counselling to help them.
Once they overcome the darkest moments of their lives, once their wounds are healed and they are ready to move on to the next stage, they need a coach.
My specific field is called AstroPsychology, which is the cross-fertilisation of astrology with depth psychology, humanistic psychology and transpersonal psychology.
Inner Sanctum: Would you describe your personality in three words?
Determined, ambitious and caring.
Inner Sanctum: What do you often share with audiences during your talks?
I often share with them about the power of the subsconscious mind, how to re-wire our brains, the power of now and the enormous benefits of meditation.
I want to inspire other people and tell them the lessons I learnt from failure and success. I want to help as many people as possible, especially women.
Inner Sanctum: What is the main thing that makes people successful — luck or effort?
Success comes from 90 per cent effort and 10 per cent luck. The more diligent we are, the more opportunities we will have.
Inner Sanctum: What do you do to maintain positive energy? What do you do if you feel bad?
I surround myself with upbeat and humorous people who makes me laugh and who are easy to laugh with. I also meditate at least 20 to 30 minutes a day to find inner balance. I live on islands four to six months a year and that helps me a lot to refresh my energy. Nature has wonderful healing benefits that make me feel full of life. I also use crystals as a great source of pure and healthy energy.
Inner Sanctum: How do you meet Dr Paula Fellingham, who has given presentations to many delegates at the United Nations? Please tell me more about your co-operation with her.
Dr Fellingham is the author of six books, including the internationally popular book Believe It! Become It! How to Hurdle Barriers and Excel Like Never Before. She is a recipient of the "Points of Light Award" given by US President George W Bush and recipient of the President's Volunteer Service Award given by President Barack Obama.
Dr Fellingham is the founder and CEO of the Women's Information Network (WIN), an educational and social network for women and a global community of women; the non-profit organization, the Global Prosperity and Peace Initiative (GPPI) and the Women of the Middle East Network.
I met her at an event of the Women Leaders International Network (WLIN) where my company Master Phuong was selected as the Best Jewelry brand. After my presentation about healing and women's empowerment, she came to me and asked me to co-operate with her in a book project. She also invited me to become a keynote speaker in numerous peace and prosperity events around the world. She told me that, together, we can bring good things to the world.
She said that together she and I would have a beautiful journey helping millions women by educating their minds, touching their hearts and changing their lives. We then kept in communication by email and phone calls. The book will share the principles that will empower women to live an extraordinary life; to reach and exceed every goal. By committing to the book, readers will allow themselves to improve and enrich their life in ways they never imagined. Dr Fellingham and I aim to make this book a life-changing book for those who want to thrive, not simply survive. Readers will be able to modify or change the circumstances in which they now live and take control of them rather than be directed by them. Each of their relationships will improve, and they will have increased influence over everyone in their life's circle.
Inner Sanctum: Would you share about your failures? Or something makes you feel regret?
I live mostly in the present. I have disciplined my mind to be mindful to the environment and people surrounding me. I rarely look back in the past with regrets. Instead, I am grateful for everything that happened in the past because all of them have made me who I am today.
I always think about what zen master Thích Nhất Hạnh said about forgiving for yourself and others. Tolerance and love are the two most powerful sources of energy in the universe.
Inner Sanctum: Would you share with me some information about your upcoming events?
I plan to give speeches at the International Peace Day Celebration events in Morocco and Egypt in September; the Prosperity and Peace event hosted by Australian National Peace Ambassador Jeni Nathaniels in October, and Global Women's Summit events in Lisbon and London in November.
Beside donating money to charity organisations, I give free educational activities because I believe that the help in the field of mind is more sustainable and effective than other forms of aid. With my professional skills, my colleagues and I help many people heal their souls and stop them from suicide or self-harm.
In the next five years, I will establish a centre offering free mental health care for poor people.
In the next 10 years, I will contribute to build a hospital for mental illnesses in Việt Nam.
My life mission is supporting people wholeheartedly to discover all their potentials, developing them into excellent abilities and exploiting them appropriately so that they can attain what they desire and live the life they dream of. VNS
Read more at http://vietnamnews.vn/sunday/inner-sanctum/465742/speaker-inspires-and-motivates-vietnamese-women-worldwide.html#YjzF2xGhbmf5rek7.99